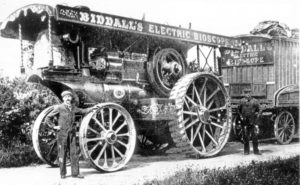 Coggers Nationwide Amusements has a prestigious pedigree, that lead back to the famous Biddall shows of the early 1900s.
Frances Brown's book "Fairground Strollers and Showfolk" (2001) notes that:
"Drawing on the talent of his family, James Biddall had already established a popular travelling circus in the north. For example, in 1902 his show was star attraction at Longsight Wakes"
James Biddall's cousin, Sam Biddall, also ran his own Novelty Show, and their uncle George Biddall ran his famous Ghost Show and the No.2 Cinematography. Brown notes that "So often did these different branches of the Biddalls meet at fairs in the north that people tended to think that they were the same concern .. all were referred top as Biddall Shows.